October 5, 2021
euskalkazeta.org ➝ Basque Cultural Day, an event that normally takes place every two years at the Basque Cultural Center in South San Francisco, is being presented virtually this year on Saturday, Oct. 23. As a result, people all over the globe can participate in this educational day, called "On Our Own Together." The Basque Educational Organization (BEO), sponsor of the event, has a spectacular line-up of speakers on a variety of Basque topics.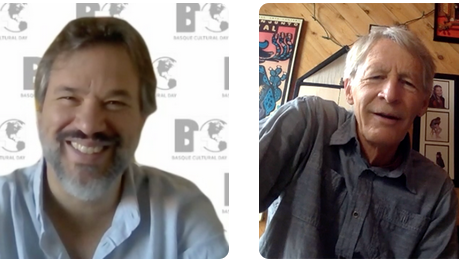 Special guests who will appear include Xabier Irujo, the Director of the Center of Basque Studies, and writer and musician David Romtvedt, both speaking about poet Joxe Mari Iparragirre. Art critic and UNR professor Larraitz Ariznabarreta will talk about Basque abstract artists, graduate student Nic Smith will speak on revolution and ethnicity, and Basque music expert Mikaela Goicoechea will talk about the history of popular Basque music.
After choosing the speakers, the BEO directors met with them several times in preparation for the Cultural Day. Each time "we have stepped away energized, intrigued, and wanting more. Sharing this experience is an honor we don't take lightly," said Anna Marie Etcheverria, chair of BEO.
BEO's webpage on the Cultural Day presents several interesting short video chats with each of the Cultural Day guests. "We put together some fun videos so you can 'meet' everyone before Oct. 23rd and learn a bit about the individuals and characters they'll be talking about," Etcheverria said
The Zoom presentation will run from 1 – 5 p.m. The Zoom information will be on the BEO webpage in a few days. Each speaker will start their presentation approximately at the top of each hour. The BEO is encouraging viewers to organize their own viewing parties at home. If you want to organize a viewing party and sign up on their page, they will send you a packet with BEO kerchiefs and some other items to help viewers get in the mood.
Xabier Irujo and David Romtvedt will speak at 1 p.m. about their recent  translation of poems of Joxe Mari Iparragirre, whose poems include the lyrics of the song "Tree of Gernika." Click here to buy a copy of Iparragirre's book on Amazon. To hear the video chats with Irujo, click here. To catch a bit of Romtvedt, click here.
More articles from Euskal Kazeta
Ariznabarreta teaches classes on Basque art, literature and culture at the University of Nevada Reno. She will talk about three modern Basque abstract artists born during Franco's dictatorship. She will discuss their work and how the Basque Country has changed after Franco. For video chats with Ariznabarreta, click here.
Nic Smith, a graduate student at UCLA, will talk about "Black is Beltza," an animated film by musician Fermin Muguruza about a freedom fighter named Manex. To hear more from Smith, click here.
Goicoechea is the current Music Program director for North American Basque Organizations and has launched Foku Musikala, a monthly Basque song from YouTube, with Spotify links, lyrics and vocabulary. She has also created Basque playlists on Spotify. Click here to see the videos with Goicoechea.

A video on the making of the animated film "Black is Beltza."